With the sudden drop in temperature I've been searching for a pair of leather gloves to keep my fingers warm on the chilly mornings. As much as I love my warm woolly mittens they're really not suitable for driving!
I like the elegant ladylike touch leather gloves add to an outfit. In my quest to find my perfect pair these are some I've found on the high street
Bow Leather Gloves - Oasis - £25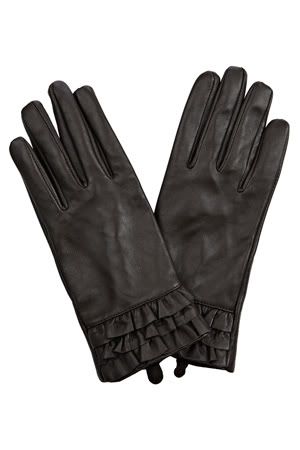 Frill Leather Gloves - Oasis - £25
I like the colourful bright purple pair from Accessorize as they're great for adding a splash of colour to your outfit. I also love the classic tan coloured gloves from Oasis.
The leopard print gloves from Miss Selfridge instantly caught my eye as did the studded gloves from John Lewis, however they're a tad pricey and I'm sure I could find a cheaper pair of leather gloves and customise them myself with studs! I'm sure Gok Wan featured how to do so on a recent episode of his Clothes Roadshow: Get The Look For Less.
Have you seen any nice leather gloves whilst out shopping?
Which are your favourite pair?