Glittery heels are perfect for adding a touch of sparkle to your outfit. With the Christmas party season fast approaching when could be a better time to treat yourself to a pair! Create
a glamorous look by wearing them with a simple understated dress or cropped trousers to show them off and let them shine.
Designer to the stars Christian Louboutin is renowned for his gorgeous shoe collections and amongst these his stunning glittery creations.
Sarah Jessica Parker wore glittering gold pointed Louboutins when she reprised her role as shoe lover Carrie Bradshaw in 'Sex and the City 2'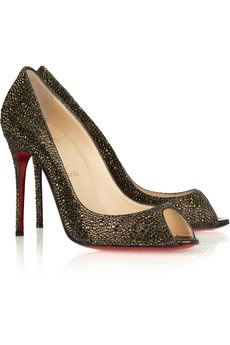 Christian Louboutin - £2,095
These beautiful peep toes are encrusted with bronze Swarovski crystals
There are some fabulous glittery heels available on the high street meaning you can indulge your inner Cinderella and dazzle without putting a serious dent in your overdraft!