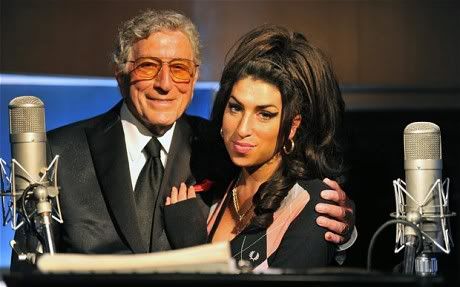 I've always been a big Amy Winehouse fan and was shocked and saddened to hear of her untimely death.
Today her final recording, 'Body And Soul' a duet with legendary crooner Tony Bennett is released to coincide with her 28th birthday and the launch of the charity set up by her family and friends in her memory,
The Amy Winehouse Foundation
"to support charitable activities in both the UK and abroad that provide help, support or care for young people, especially those who are in need by reason of ill health, disability, financial disadvantage or addiction."
It is a truly beautiful song which shows off Amy's amazing voice and talent. When interviewed whilst recording the track back in March at London's Abbey Road studios Amy spoke of how it was one of her dad, Mitch's favourite songs.
She appears relaxed and happy as she sings, looking over and smiling at Tony. She is wearing one of her trademark Fred Perry jumpers. Her recently released
AW11 Amy Winehouse Collection for Fred Perry
is donating the fees and royalties from sales to The Amy Winehouse Foundation.
'Body and Soul' is available to
download
now and all proceeds will go to the foundation.
The track is taken from Tony Bennett's 'Duets II' album released next week, also featuring collaborations with Lady Gaga and John Mayer.